By: Jennie Walker Knoot, Debra S. Fish Librarian at Think Small
May is Asian/Pacific American Heritage Month – a celebration of Asians and Pacific Islanders in the United States. The month of May was chosen to commemorate the immigration of the first Japanese to the United States on May 7, 1843, and to mark the anniversary of the completion of the transcontinental railroad on May 10, 1869; which had significant contributions from Chinese workers.
Why does the wording for AAPI month matter? Find out here – AAPI Heritage Month gets a well deserved addition (usatoday.com)
All titles are available through the Debra S Fish Early Childhood Resource Library, a branch of the St. Paul Public Library. The titles highlighted here are just a tiny smattering of the countries and people groups that are celebrated during this month. If you'd like more title recommendations, our librarian would be happy to help! Please contact Jennie at librarian@thinksmall.org
Children's Titles:
When Lola Visits (Age Focus: 4 – 8 years) 
* BookPage Best Books of the Year * The New York Public Library's Best Books of the Year * Kirkus Best Books of the Year * An ALSC Notable Children's Book of the Year * A CCBC Choices Pick of the Year * Banks Street Best Children's Books of the Year *
"For one young girl, summer is the season of no school, of days spent at the pool, and of picking golden limes off the trees. But summer doesn't start until her lola—her grandmother from the Philippines—comes for her annual visit.
Summer is special. For her lola fills the house with the aroma of mango jam, funny stories of baking mishaps, and her quiet sweet singing in Tagalog. And in turn, her granddaughter brings Lola to the beach, to view fireworks at the park, and to catch fish at their lake.
When Lola visits, the whole family gathers to cook and eat and share in their happiness of another season spent together. Yet as summer transitions to fall, her lola must return home—but not without a surprise for her granddaughter to preserve their special summer a bit longer." From the publisher
My Dadima Wears a Sari (Age Focus: 5 – 9 years) 
"Kashmira Sheth provides a warm, unique peek into Indian culture in this sensitive portrait of a grandmother and her American granddaughter. Hindi words defined and sprinkled throughout the text further add to the story's authenticity. Yoshiko Jaeggi's sweeping, colorful, and fanciful watercolor illustrations capture the extraordinary bond of love that unites families across generations and cultures. A note from the author and instructions for wrapping a sari are included." From the publisher
Our Favorite Day (Age Focus: 3 – 7 years) 
"Every morning Papa follows his normal routine. He drinks his tea, waters his plants, tidies up, and takes the bus into town. Papa enjoys his daily tasks, but there's one day each week that is extra special. That's the day he might visit the craft store, get two orders of dumplings to go, and possibly pick some flowers he sees along the path. With its spare text and wonderfully warm watercolor and cut-paper illustrations just begging to be pored over, Joowon Oh's tale of the singular love between a grandfather and granddaughter will nestle within the heart of every reader." From the publisher
Luli and the Language of Tea (Age Focus: 3 – 8 years) 
* Booklist starred review
"When five-year-old Luli joins her new English as a Second Language class, the playroom is quiet. Luli can't speak English, neither can anyone else. That's when she has a brilliant idea to host a tea party and bring them all together.

Luli removes her teapot, thermos, and teacups from her bag and calls out "Chá!" in her native Chinese. One by one, her classmates pipe up in recognition: in Russian, Hindi, Turkish, Persian, Arabic, and Spanish, Portuguese, and Swahili. Tea is a tasty language they all know well, and it gives them a chance to share and enjoy each other's company. When all the tea is gone and it's time for dessert, Luli gets to use her favorite English word, cookie! After that, the playroom isn't so quiet.

Informed by her own experience as the child of Chinese immigrant parents, Andrea Wang makes the point that when you're looking to communicate with people, you look for a common bond. The word for "tea" is similar in many languages, and tea becomes the unifying metaphor that brings a diverse group of children together. Additional material at the back of the book explores the rich and ancient history of tea drinking across cultures all around the world and contains maps, statistics, and fascinating details that will delight young readers." From the publisher
Mommy's Hometown (Age Focus: 3 – 7 years) 
"This gentle, contemplative picture book about family origins invites us to ponder the meaning of home. A young boy loves listening to his mother describe the place where she grew up, a world of tall mountains and friends splashing together in the river. Mommy's stories have let the boy visit her homeland in his thoughts and dreams, and now he's old enough to travel with her to see it for himself. But when mother and son arrive, the town is not as he imagined. Skyscrapers block the mountains, and crowds hurry past. The boy feels like an outsider—until they visit the river where his mother used to play, and he sees that the spirit and happiness of those days remain. Sensitively pitched to a child's-eye view, this vivid story honors the immigrant experience and the timeless bond between parent and child, past and present." From the publisher
Eyes that Speak to the Stars (Age Focus: 4 – 9 years)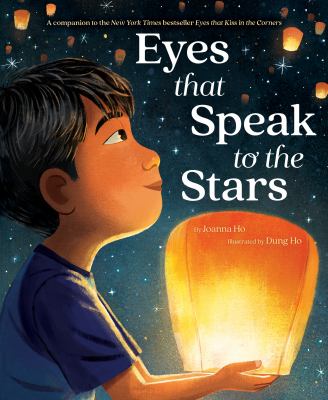 "A brilliant treatise to love of self and heritage." —School Library Journal (starred review)
"A beautifully validating book that builds on the necessary work of its predecessor." —Kirkus
"Affirmative poetry about a child's eyes and the tale they tell about him. An uplifting read." —Booklist
"A young boy comes to recognize his own power and ability to change the future. When a friend at school creates a hurtful drawing, the boy turns to his family for comfort. He realizes that his eyes rise to the skies and speak to the stars, shine like sunlit rays, and glimpse trails of light from those who came before—in fact, his eyes are like his father's, his agong's, and his little brother's, and they are visionary.
Inspired by the men in his family, he recognizes his own power and strength from within. This extraordinary picture book redefines what it means to be truly you." From the publisher
The Rise (and Falls) of Jackie Chan (Age Focus: 4 – 8 years) 
"Jackie Chan has been making movies and amazing audiences with his original and comedic stunts for decades. But before he was an international star, Jackie grew up in relative poverty in China, studied martial arts at the grueling China Drama Academy, and worked for years trying to find his way in film. Twist, tumble, and train alongside martial arts hero Jackie Chan in this picture book biography from lauded author Kristen Mai Giang and illustrator and Hong Kong native Alina Chau. Discover how Jackie used his goofball acrobatics to make a name and a style all his own." From the publisher
The Big Bath House (Age Focus: 4 – 9 years) 
NAMED ONE OF THE BEST BOOKS OF THE YEAR BY New York Public Library • NPR • Publishers Weekly • Kirkus Reviews • Horn Book • The American Library Association • ALA Rise: A Feminist Book Project

"In this celebration of Japanese culture and family and naked bodies of all shapes and sizes, join a little girl–along with her aunties and grandmother–at a traditional bath house. Once there, the rituals leading up to the baths begin: hair washing, back scrubbing, and, finally, the wood barrel drumroll. Until, at last, it's time, and they ease their bodies–their creased bodies, newly sprouting bodies, saggy, jiggly bodies–into the bath. Ahhhhhh!" From the publisher
Where Thuong Keeps Love (Age Focus: 4 – 8 years)  
Kirkus Reviews, one of the 150 Most Anticipated Fall Books
"Where do you feel and keep love for your parents? In your head, where you think kind thoughts? In your mouth, where you say special words? Or in your heart, where you feel good emotions?
Inspired by the subtle yet unique cultural differences in how love is expressed, Where Thuong Keeps Love explores all the nonverbal ways love and affection are connected and held in every part of the body—from the top of the head all the way down to the tips of the toes." From the publisher
Sumo Counting (Age Focus: Baby – 3 years)  
"Take a peek into the lives of sumo wrestlers in this adorable counting book! Simple, charming scenes within the sumo stable let young readers practice numbers from one to ten, fifty, and one hundred, while they learn how sumo wrestlers do chores, practice, sleep, bathe, and eat together. Each page features a Japanese word related to sumo culture, as well as the number in English and Japanese." From the publisher 
Butterfly for a King: Saving Hawaiʻi's Kamehameha Butterflies (Age Focus: 6 – 9 years) 
"The fascinating true story of a beautiful native Hawaiian butterfly, a great Hawaiian warrior king, and current-day efforts by scientists and citizens to restore the butterfly's declining population.
The beautiful Kamehameha butterfly lives in Hawaii and nowhere else on Earth. Named to honor the great king who united the Hawaiian Islands, the butterfly is one of only two species native to Hawaii.

After the Kamehameha butterfly became the state insect–thanks to a group of fifth graders–people noticed that the butterflies were disappearing. So a team of dedicated professional and citizen scientists began working together to restore the butterfly's natural habitat and reintroduce butterflies in places where they were once found." From the publisher
Additional Resources
The Asian and Pacific American Heritage Foundation of San Francisco is a great place to learn more about this commemorative holiday and connect to more resources about the history and experiences of Asian Americans, Pacific Islanders, and Native Hawaiians.
All titles are available through the Debra S Fish Early Childhood Resource Library, a branch of the St. Paul Public Library. The titles highlighted here are just a tiny smattering of the countries and people groups that are celebrated during this month. If you'd like more title recommendations, our librarian would be happy to help! Please contact Jennie at librarian@thinksmall.org